FOR IMMEDIATE RELEASE
Lee & Associates Announces Southwest Florida Transactions:
FT. MYERS, Fla. (Sept. 24, 2021) – Lee & Associates, the largest broker-owned commercial real estate firm in North America, announced today it recently completed the following transactions: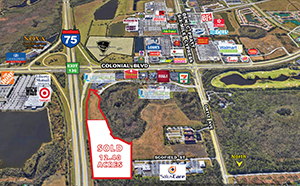 Sale
RV Retailer Florida Real Estate LLC purchased 12.40 acres in Colonial Commons (in the northwest corner of Colonial Boulevard and fronting on Interstate 75) at 8995 Colonial Center Dr., Ft. Myers from WDK Investments, LLC for $5,375,000. The buyer plans to develop the property into a RV dealership.
Skip Thinnes of Lee & Associates|Naples-Ft. Myers negotiated the transaction. For more information, please contact Skip at 239-210-7608 or sthinnes@lee-associates.com.