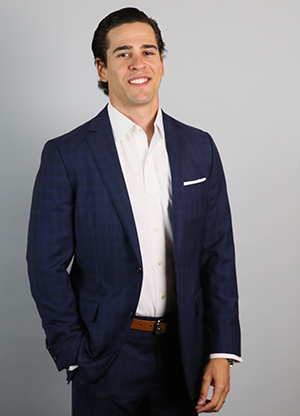 Ft. MYERS, Fla. (Oct. 4, 2021) – Lee & Associates, which specializes in providing exceptional commercial brokerage services of industrial, office, investment, multifamily, retail and land is pleased to announce the promotion of James Walls to vice president.
Walls, earlier this year, completed a notable $2 million sale of a 20,000sf warehouse on Enterprise Avenue in Bonita Springs and a 35,000sf industrial lease on behalf of Zing Quality Furniture in Ft. Myers. Walls specializes in selling and leasing of industrial and retail properties and recently added a large retail leasing assignment to his accomplishments.
"James' work ethic in the commercial real estate business has served him well as he has moved up in this role," said Derek Bornhorst, SIOR, CCIM and president of Lee & Associates|Naples Ft. Myers. "We hope to have him as a strong contributor to the Lee & Associates team for many years to come."
Walls has over 10 years of commercial real estate experience spanning multiple sectors and markets. He graduated from Pennsylvania State University in 2010 and started his commercial real estate career in Ft. Lauderdale, FL before becoming an industrial research analyst for another major commercial real estate company in Tampa, FL. He joined the Naples' branch office of Lee & Associates|Naples-Ft. Myers in 2019.
To congratulate him and learn more, please contact James at 239-230-2264 or jwalls@lee-associates.com or visit our web page at www.lee-fl.com .