Published News-Press, Tuesday, March 30, 2021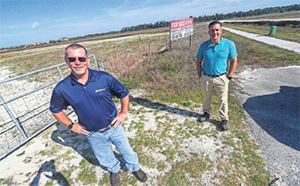 The Alico Road quadrant just west of I-75 continues to grow into a cluster of industrial construction activity. Seagate Development Group has announced yet another new industrial park. Rice Insulation and White Cape Construction Supply will be tenants. Jeff Rueffer of White Cap Construction Supply and Todd Bloker of Rice Insulation stand near the sites of their new corporate headquarters. ANDREA MELENDEZ/THE NEWS-PRESS
In the Know
David Dorsey
Columnist
USA TODAY NETWORK – FLA.
Party in the front, business in the back. Or call it an industrial revolution in the back.
That's what's happening in what I'm calling the Alico Road Quadrant, the square area with I-75 to the east and Domestic Avenue to the west.
Alico Road forms the border to the south. An east-west drainage canal, and the Fiddlesticks community on the other side of it, form the border to the north.
Domestic Avenue, Lee Road, Oriole Road and Three Oaks Parkway form the north-south arteries of what is rapidly filling in as sites for corporate head-quarters and industrial warehouses.
Fronting I-75 on the east side of this quadrant will be behemoth corporate headquarters with outstanding visibility for NeoGenomics, eye doctor Jonathan Frantz and Scotlynn, a food distribution company. All three of those projects are under construction.
A flurry of more construction is set to begin behind those structures, west of I-75 and Three Oaks Parkway and on the northern edge of that Alico Road quadrant.
Seagate at the helm
Seagate Development Group pur-chased a 40-acre parcel in January for$1.745 million. The land is just west of the northernmost point of Three Oaks Parkway (for now; eventually that road will continue northward and connect with Daniels Parkway). The land is north and northwest of Oriole Road and the Oriole Road elbow before that road curves and heads south.
Rice Insulation has been announced as the first company to plant its region-al corporate headquarters in what will be called the Alico Trade Center. Sea-gate will build access roads to reach the center.
"I think the Alico corridor is the middle of all the population of the tri-county area," said Matt Price, CEO of Seagate. "That's where everybody is planting their flags. People are now needing longer-term solutions. The population is getting to the point where we're no longer a destination just for snowbirds. There are a lot of economic drivers."
Real estate brokers at Lee & Associates are handling design-build leasing and selling the pad sites, partnering with Seagate on the project.
Rice Insulation
Rice Insulation will move into a 35,000-square-foot facility with offices, a reception area, a conference room, training and break rooms, work-stations and a warehouse of insulation, glass, shower door and shelving materials, high-dock doors for trucks and 100 parking spaces.
Rice currently has two locations: in an industrial park off Six Mile Cypress Parkway and off Jetport Loop Road. The new facility will allow Rice to consolidate everything under one roof. It also will boost Rice's space from a combined 26,000 square feet at its two existing facilities to adding 9,000 square feet at the new location.
Rice has about 130 local employees. "It's important to have all of our employees at the same warehouse for better efficiency," said Todd Bloker, division manager for Rice.
Bloker hopes Rice can move into the facility, which has yet to break ground, in October.
White Cap Construction
White Cap Construction Supply, which has its current, 30,000-square foot headquarters in Fort Myers off Hanson Street and Ford Street, hopes to move into a 45,000-square-foot new building by the end of this year.
Seagate has yet to close on the land just south of where Rice will be located, and the project is in the permitting phase.
White Cap will be located at 16542 Oriole Road, land owned by Harvey Youngquist, said Jeff Rueffer of White Cap.
The construction supply company has 42 employees in Fort Myers.
"We hope to hear any day now," Rueffer said of having the permitting in place and the purchasing of the property. "We hope to be in there by October, but it could be more like November. It's going to be a metal building on a big slab and some masonry. We're hoping we supply the contractor that builds the slab. That's what we do. We supply the materials mainly for new construction. We're good at water proofing. Concrete accessories."
White Cap does rebar fabrication. Rebar is short for reinforcing bar. It's the steel over which concrete is poured, with the intent of stabilizing the concrete for construction.
White Cap supplies the big home builders like Lennar, Pulte and D.R. Horton, as well as industrial and commercial projects.
"We've outgrown this place 10 years ago," Rueffer said of White Cap's existing facility. "With home building, they're selling them quicker than they can build them."
The demand for new construction justified the move.
White Cap, like Rice and the other companies, was drawn to the Alico Road Quadrant for strategic reasons.
"This is huge," Rueffer said. "It's going to open up some doors. Easy access to the highway and down to 41."
Centerlinks industrial park
The first two buildings of a planned six-building complex, plus room for a behemoth, 200,000-square-foot ware-house are up and not quite running.
Centerlinks Office/Warehouse/Flex Space off Oriole Road already has seven tenants in an eight-tenant building booked, said Mike Doyle, a broker with LandQwest.
"Like everything, it's just the function of the demographics of people still moving in," Doyle said. "It fills the need for that type of warehouse, close to the interstate, that people want. We've been able to fill it very quickly."
The warehouses have units ranging from 4,800 to 63,000 square feet.
Update on other projects
NeoGenomics headquarters, about 150,000 square feet, is about 75% finished and on target for the cancer diagnostics company to move in by December, Seagate's Price said.
Scotlynn's headquarters is also about 75% finished, Price said. But because it has a smaller footprint at 60,000 square feet, it should be ready for the employees to move in by July.
The Frantz eye doctor headquarters is being built by Stevens Construction and is slated for completion February 2022.
What's next?
A certain Seattle, Washington-based online juggernaut that rhymes with "Slamazon" has been rumored to be circling the Alico Road Quadrant, looking for land through its partner, Atlanta-based Seefried Industrial Development, on which to build a fulfillment center.
Keep your eye on the Alico Road Quadrant, as it could end up being the perfect fit from where to receive the myriad of products you order online, with same-day shipping. The land has few environmental hurdles for permitting and already has an expanded I-75 infrastructure built in place for the armada of delivery trucks that would be hustling to achieve that "last-mile delivery," a term that will keep coming up as the future unfolds.
Seefried has developed 180 million square feet of real estate since its 1984 inception. This year alone, it has 2 million square feet under development.
Pet Paradise opens new facility
Pet Paradise Bonita Springs opened Thursday at 8739 Commerce Drive in Bonita Springs.
The facility has an on-site veterinarian, boarding, day camp and grooming services for dogs and cats.
The Jacksonville-based company now has 50 locations in nine states.
The Bonita Springs location offers an indoor swimming pool, weekend veterinary care, play groups for pets by age, size and temperament, and private "cat condos."
Connect with this reporter: David Dorsey (Facebook), @DavidADorsey (Twitter).